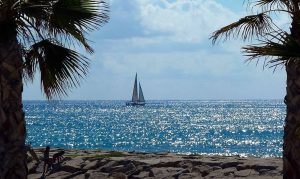 WE ZITTEN NIET IN HETZELFDE SCHUITJE….
Er wordt soms gezegd dat we allemaal in hetzelfde schuitje zitten, maar zo is het niet. We zitten in dezelfde storm, maar niet in hetzelfde schuitje. Jou boot kan schipbreuk lijden en het mijne misschien niet. Of andersom..
Voor sommigen is deze quarantaine optimaal. Een moment van bezinning, van opnieuw verbinden, lekker op je slippers in de achtertuin in de zon, met een cocktail of koffie in je hand, je kasten uitruimen en dat muurtje schilderen. Voor anderen is dit een wanhopige financiële crisis.
Voor sommigen die alleen wonen, is het een confrontatie met eindeloze eenzaamheid, het niet kunnen bezoeken van geliefden en vrienden. En voor anderen een tijd is met hun gezin, spelletjes spelen en eindelijk weer eens goede gesprekken.
Sommigen ontvangen steun om te overleven waar andere ondernemers nul op het rekest krijgen.
Sommige bedrijven hebben meer klanten dan ooit en waar bij andere bedrijven geen klant meer te vinden is.
Sommigen kunnen door met hun werk omdat er de mogelijkheid tot thuiswerken is. Anderen werken veel meer uren vanwege het feit dat alle tijdelijke medewerkers op non actief staan.
Sommigen waren bezorgd over het tekort van toiletpapier of de asperges voor Pasen, anderen waren bezorgd of er nog wel genoeg in de schappen zou liggen na hun lange, emotionele en zware diensten in het ziekenhuis.
Sommigen willen weer aan het werk omdat ze niet in aanmerking komen voor de uitkering en langzaamaan hun spaargeld en daarbij hun plannen zien verdampen. Anderen zijn woest op de mensen die zich niet aan de opgelegde regels van de quarantaine houden.
Sommigen besteden 2-3 uur per dag thuis aan het helpen van hun kind met online onderwijs, terwijl anderen 2-3 uur per dag besteden aan het onderwijzen van hun kinderen bovenop een werkdag van 10-12 uur.
Sommigen hebben de dood van het virus bijna meegemaakt, sommigen hebben er al iemand aan verloren en weer anderen weten niet zeker of hun geliefden het zullen redden.
Sommigen hebben op een harde manier afscheid moeten nemen van hun oude ouders. Anderen missen hun ouders al een tijdje en zijn tegelijk blij dat hun ouders deze vreemde en angstige tijd niet mee moeten maken.
Er zijn mensen die niet geloven dat dit een groot probleem is of zelfs dat het een samenzwering is om andere problemen te verdoezelen. En sommigen blijven binnen en dragen maskers en handschoenen als ze naar buiten gaan.
Sommigen mensen hebben vertrouwen in een God, sommigen verwachten in 2020 wonderen. Anderen zeggen dat het ergste nog moet komen.
Dus mensen, we zitten niet in hetzelfde schuitje. We maken een tijd door waarin onze percepties en behoeften totaal anders zijn. Ieder van ons zal daarom op zijn eigen manier uit deze storm komen.
Het is erg belangrijk om verder te kijken dan wat op het eerste gezicht te zien is. Niet oppervlakkig maar echt zien wat er bij de ander speelt. Zo alleen kunnen we begrip voor elkaar opbrengen en samen deze crisis aan.
We zijn allemaal schippers op verschillende boten tijdens deze storm en zo beleven we allemaal een andere reis!!!!
EEN GOEDE REIS EN EEN BEHOUDEN THUISKOMST!!!
❤️