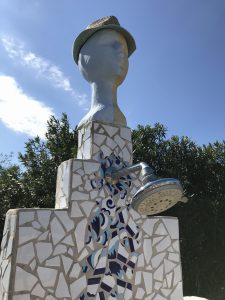 Met ons GOED…. En met jullie?
De huidige noodtoestand (estado de alarma) is ingegaan op 15 maart en zou duren tot 30 maart. Deze werd de eerste keer verlengd tot 12 april waarna een tweede verlenging volgde tot 26 april. Op 22 april komt het Spaanse parlement opnieuw bij elkaar en dan is de kans groot dat premier Pedro Sánchez om een derde verlenging tot 10 of 11 mei gaat vragen.
Zaterdag 18 april gingen we dus de 6e week in van onze lock down. Op 22.april horen we over het verdere verloop van de lockdown. Dat zijn hoog waarschijnlijk enkele versoepelingen voor de volgende 2 weken. Dat zal te maken kunnen hebben met oa of kinderen buiten kunnen spelen, er weer diverse winkels open gaan, restaurants en cafés open met misschien aangepaste regels. . We zullen even afwachten wat de persconferentie ons te melden heeft. Woensdag doet onze president Sanchez daar uitspraak over. UPDATE: De uitspraak is als volgt:
" De president van Spanje, Pedro Sánchez, vertelde op 22 april dat de maatregelen tegen het coronavirus mogelijk in de tweede helft van mei kunnen worden verlicht. Spanje, dat hard getroffen is, heeft de maatregelen deze week in ieder geval verlengd tot 9 mei.
Vanaf komende maandag mogen kinderen tot veertien jaar wel weer naar buiten voor een wandeling. Op dit moment mogen kinderen helemaal niet buiten komen. Eerder deze maand mochten sommige fabrieken al open en mochten bouwvakkers weer aan de slag.
Dit zijn op dit moment de belangrijkste maatregelen in Spanje:
• Je mag alleen je huis verlaten voor werk of het halen van boodschappen of medicijnen. Buiten sporten is verboden.
• Alle publieke bijeenkomsten zijn verboden.
• Alle scholen en universiteiten zijn gesloten."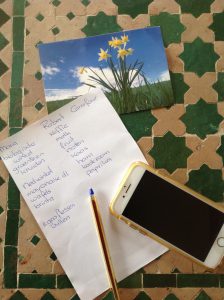 Vooralsnog zitten wij thuis. Mogen alleen de straat op voor de noodzakelijke boodschappen. Dus vrijdags verheugen we ons er al op, dat we ons boodschappenlijstje mogen maken voor zaterdag. We mogen maar met 1 persoon in de auto rijden, dus we gaan dan om de beurt onze boodschappen doen.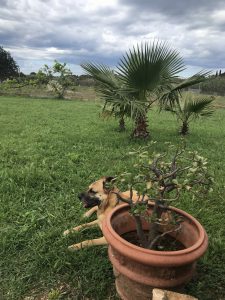 Het weer is de laatste dagen slecht. Veel regen of zware bewolking. Vandaag schijnt het zonnetje weer af en toe. Sinds de lock down is het weer ook lock down gegaan lijkt wel. Maar ik zag dat eind deze week de zonnige dagen toch echt gaan komen.
Ik realiseer me echt dat er mensen op het moment heel bizarre dingen meemaken met deze crisis. Huis vol met kinderen die niet buiten mogen zijn. Oudjes alleen in tehuizen zonder hun familie bezoek. Mensen in ziekenhuizen in strijd met zichzelf. Kleinere zaakjes en ondernemers die het niet redden straks!! En nog veel meer!!
De verhalen komen nog wel straks naar buiten. Ik denk wel aan al die mensen die heel zoveel zwaarder hebben dan ons, maar ik ben er niet elke dag mee bezig. Ik kan eigenlijk alleen over mijn situatie praten.
Ik doe sinds 5 dagen elke ochtend mijn yoga oefeningen van 25 min. Dit is een programma van 30 dagen. Ik heb in de Casita mijn matje liggen en met de deur open en met het getsjilp van de vogeltjes op de achtergrond doe ik mijn bewegingen.
Naar het gastenverblijf de "casita" heb ik al mijn foto's toe gesleept en ben het allemaal aan het ordenen. Inplakken of weggooien!! Heb ook veel weg kunnen gooien. Met in mijn achterhoofd. Wie heeft later als ik er niet meer ben nog interesse in mijn foto's?? Dus op dit moment loop ik alle fasen in mijn leven nog even door! En nu ben ik hier op dit punt beland!! En net als wat Joep van het Hek zei in zijn conference besef ik ook dat er meer jaren achter mij liggen dan ervoor. De foto's bewijzen het maar al te goed!! 3 Kwart van mijn jaren heb ik gehad en ik heb nog 1 kwart te gaan! Ik voel me gezond en vitaal en ik ga zeker nog vele leuke mooie dingen uit het leven halen. De volgende stap kan pas in werking treden als het huis verkocht gaat worden. Maar op het moment ligt dat ook helemaal stil. Ook de verhuur is in diepe lock down. Hoop dat vanaf juli augustus verhuurd mag worden maar mensen zijn heel voorzichtig denk ik. Er is een fluister dat de grenzen van ned spanje voor vakantiegangers dicht blijf deze zomer. Als dat zo is dan zullen alleen de Spanjaarden in eigen land op vakantie gaan We zullen zien hoe het loopt en het zich ontwikkeld.  Op dit moment kan ik niet in mijn toekomst kijken.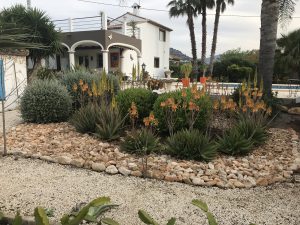 Ik ben in de tuin aan het werk. Het boomschors wat er ligt waait vaak weg bij harde storm en over de perken heen. We zijn voor zover dat kan dit aan het vervangen door steen. Ook de bomen moeten weer gesnoeid en het gras gemaaid. Na de regen groeit het razend snel.
Ik was vanmorgen in de aarde aan het werk en haalde al het boomschors weg om plaats te maken voor de steentjes. Robert kwam erbij staan en zei je haalt wel veel werk op je hals. Ik zei ja je hebt gelijk! Alleen is het jammer dat ik hier niet voor betaald wordt!! Ik wil weer verder gaan, schep in de grond en zie een 10 cent munt voor me liggen.!!! Ik raap hem op en zeg tegen Robert. Mijn gebed is toch verhoord!! Lachen!!
Ik weet nu zeker dat alles wat je in het universum gooit wordt gehoord en weer terug komt bij jezelf!!
Daarbij zag ik vanmiddag tussen de geitjes een witte ibis vogel lopen. En dat brengt geluk.!!
LEUK ALS JE EEN REACTIE HIEROP HEBT..ben benieuwd naar je verhaal..